This is a Sponsored post written by me on behalf of NECTRESSE™Sweetener for SocialSpark. All opinions are 100% mine.
As a mom I'm always trying to find ways to cut down on my kids sugar intake.  With a family history of diabetes, it helps to have an awareness early on.  So when the makers of Splenda sent me a sample of their new NECTRESSE™Sweetener , I was excited to give it a try.
NECTRESSE™Sweetener derives its sweetness from the monk fruit, and is combined with other natural sweeteners to bring you the sweet taste of sugar, but with out all the calories.  It is a no calorie sweetener and is 150 times sweeter than sugar and can be used in baking and cooking or in your favorite drink to add zero calorie sweetness.
I decided to put it to the test in one of our favorite dessert recipes.  
Strawberry Pretzel Jello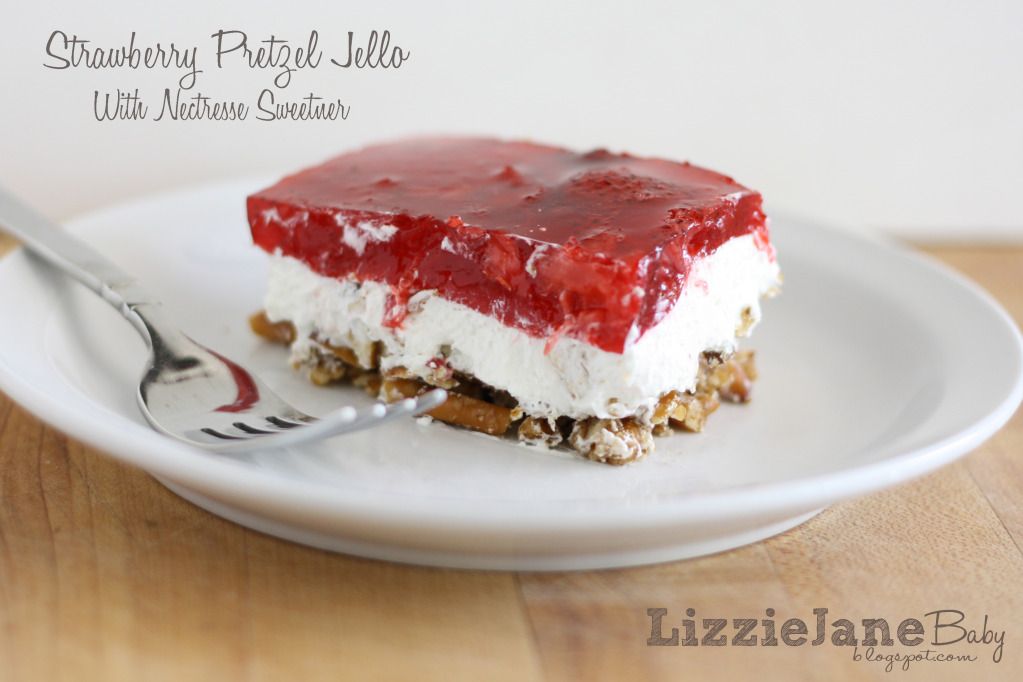 Here is the recipe I used:
Crust: 1 heaping TBL Nectresse Sweetner (or 6 packets), 3/4 cup butter (melted), 2 1/2 cups crushed pretzels – combine ingredients and pat down into a 9 x 13 baking dish.  Bake at 350 degrees for 8-10 minutes. Let cool.
2nd layer: 1/4 cup Nectresse Sweetner (or 24 packets, that is 1/4th the amount of sugar in my normal recipe!), 8 oz cream cheese (softened), 8 oz tub cool whip (thawed) – cream together the cream cheese and Nectresse with a mixer until all combined.  Fold in cool whip and spred onto cooled crust.
Jello Layer: 6 oz box strawberry jello, 1 1/2 cups hot water, 16 oz container sliced frozen berries (thawed) – combine hot water and jello until it is all dissolved.  Add sliced berries, but strain them out of the juice.  If some juice gets in the jello, it's ok, just don't need all the juice.  Set in fridge for about 1 hour until it's slightly set up.  Then spoon onto the cream cheese layer.  Put into fridge to fully set up and chill for an hour or so.
I was amazed at how good it turned out!  It will be perfect for our family members that like something sweet, but can't indulge in all those high sugared desserts at family gatherings.  Even the kids liked it!  There was no grainy or gritty texture, it worked out just as if I had used sugar.
Nectresse is available in single serving packets and also in easy to hold canisters.  It is available at grocery stores, drug stores, super stores and online.  You can even try a FREE sample of NECTRESSE™Sweetener .
One of America's favorite journalists, Lisa Ling, is the spokesperson for NECTRESSE Sweetener.  Hear what she has to say about NECTRESSE Sweetener.  Watch her video testimonial here:
If you have family members that have diabetes and are watching their sugar intake, make this Strawberry Pretzel Jello for your next family gathering.  I bet they'll be surprised at how tasty it is!
Thank you for subscribing to Lizzie Jane Baby.
To read more, or download a recipe, please visit Lizzie Jane Baby Blog.