Create a fun DIY shirt without ever having to turn on your computer. Using the right apps on an Apple iPad Pro, you can make a DIY project using just your iPad Pro and Cricut cutting machine.
This post contains affiliate links which mean I make a little something if you purchase through the link with no extra cost to you.
There are so many programs out there to use to create cut files for making DIY shirts, totes, mugs, etc. Lately I have been using my iPad Pro, Procreate App and Apple Pencil to do a lot of the free svg cut files you've seen here on the blog. Once I finish a design in Procreate, I usually send it to my computer and clean it up using Adobe Illustrator before opening it up into Cricut Design Space to cut it. But I wanted to show you that if you have and iPad Pro and Procreate App, you don't even have to leave the iPad to create fun DIY projects using just the iPad Pro and Cricut cutting machine.
I first want to start out by saying that this is NOT a tutorial on how to use the Procreate App on the iPad Pro. I use the Procreate App to create a lot of my cut files and to practice my hand lettering. I go into it briefly to show how I use the layers panel to create my DIY shirt design. A modest knowledge of how Procreate works on an iPad Pro with the Apple Pencil is needed to complete this tutorial. The majority of this tutorial is on how to use the Cricut Design Space App on the iPad Pro.
How to make a DIY shirt using iPad Pro and Cricut
For this project you'll need:
iPad Pro with Procreate App and Apple Pencil
Cricut Maker or Cricut Explore Air 2
Cricut Design Space App on iPad
plain t-shirt
The video below walks through all the steps on how to get your Procreate Design into Design Space, make those designs into cut files, how to cut the layers of iron on with the Cricut machine, and how to use the EasyPress to iron them to a t-shirt. All without having to turn on your computer, and just use the iPad Pro.
And if you don't have an iPad Pro and just want this cute free cut file, click the link below to be taken to the download page, download and unzip file before uploading it right into Cricut Design Space.
See this video on how to upload an SVG into Design Space to create this DIY shirt. Layering foil iron on is actually not recommended, but I wanted to give it a try. The reason is because foil iron on can be so tricky. If it gets too hot or the carrier sheet is pulled off before it's cool, it will cause wrinkling in the iron on. Which did happen on this shirt if you look closely at the pink and purple parts of the popsicle. I just really wanted to use it, so I took the chance. But you could use lite iron on for the popsicle colors, and then use foil iron on for the main design and it should work out great. Just remember to let the carrier sheet cool before you peel it off.
I've always mentioned how much I love iron on projects. Iron on is my favorite material to work with when creating fun projects and gifts. Well, I'm not the only one that loves iron on, I'm sharing this project today in conjunction with a bunch of other bloggers who also love iron on. Check out all the fun projects below! And also, Cricut is giving away an EasyPress, EasyPress Mat and an amazing iron on bundle, so make sure and enter to win that amazing prize.
tart InLinkz script –>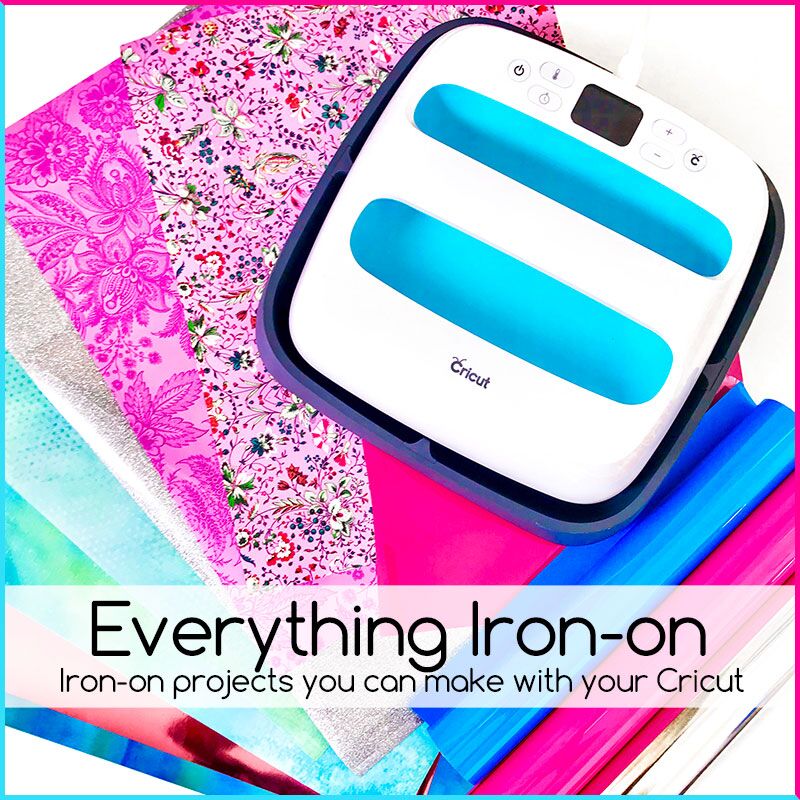 Screen reader support enabled.
If you have any questions on how I use my iPad Pro and Cricut to create fun projects, let me know!
Happy Crafting!
Liz
Title:
How to Make a DIY Project Using iPad Pro and Cricut
Mentions:
Cricut Projects, free cut file, hand lettering, heat transfer vinyl
Keywords:
iPad Pro and Cricut
Last Updated:
May 10, 2020