Did you all know that I am a contributor over at Reasons to Skip the Housework?  Well I have been sharing some fun projects there for the last couple months.  I thought I would share this weekly menu notepad here with you all in case you missed it over there.  With school starting back up it's easy to get into a routine.  I know that I need a routine just as much as my kids need a routine.  What I always have a hard time with is meal planning.  I don't mind cooking and making dinner, I just hate having to come up with something to make.  This weekly menu notepad has been a lifesaver with meal planning and has made our daily routine so much easier (well at least when it comes to meal prep).  🙂
What I really love about it is that the shopping list is right there at the bottom of the list.  You can decide what you want to make and as you look at your list, add the ingredients you need right there on the same paper.  And once you're done, you can just rip off the bottom half to go to the store and still have your weekly menu plan on your notepad.
Here is how you can make your own weekly menu plan notepad.
First you can download the free printable in either black or color.  I just printed them out on regular plain white paper.  Once they are all printed, just cut them apart and trim around the edges.
Once you have them all trimmed, take a few at a time and stack them up.  Then using a sewing machine, with out any thread, line up the needle with the lines running down the middle of your papers.  Then you just "sew" your paper down that middle section.
Once you are done, you should have a line of holes down the middle of your menu plan paper.  As you can see, it doesn't have to be super straight for it to work. 🙂
You can leave them as individual sheets or make them into a notepad like I did.  To make a notepad, see the tutorial here. (It's easier than you think.)
Now that you have your menu and shopping list ready, you just tear the bottom half off where you "sewed" the paper, and take the list with you to the grocery store.
What are some of you family favorite meals that you'll be adding to this list?
Happy meal planning!
Liz
Looking for another idea?  Here are more weekly menu plan printables.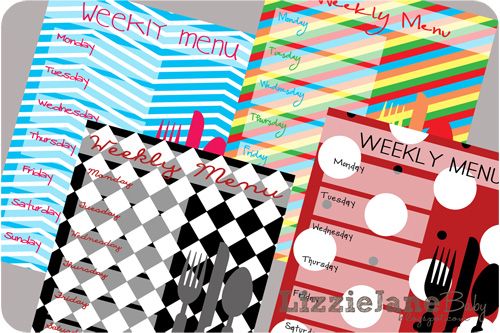 Title:
Weekly Menu Notepad
Keywords:
weekly menu notepad
Last Updated:
May 10, 2020