Today I am so excited to be participating in Craft Lightening with 30 Minute Crafts and The Country Chic Cottage.  The challenge was camp crafts that could be completed in 15 minutes.  As I started thinking about a camp craft I would love, I was taken back to the days I went to girls camp with my church when I was a teenager.  We had some great times and have some fun stories to share.  I remember sleeping in cabins on bunk beds and thought back to the fun crafts we made while we were at camp to decorate our cabins.  I wanted to remember that time with my kids and thought that making a 15 minute tile name plate to decorate our sleeping areas would be a great camp craft.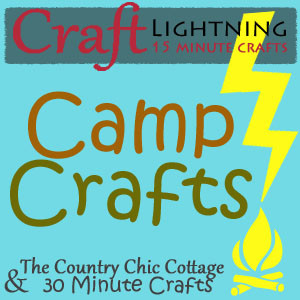 It all starts with a 4 inch square or a 6 inch square tile from the hardware store.  They are not very expensive at all.
I decided to use some bright colored paint pens/markers that I bought at the craft store.  I let the kids pick out the colors they wanted.
I had to help little miss spell her name, but they both had a great time decorating their tile name plates in their favorite colors.
I let them decorate their tiles for about 10 minutes and they dried very quickly.  Except for the areas where my son let the paint pool up a little too much (as shown in the picture below).
I used a hot glue gun and glued a piece of ribbon on the backs of the tiles so they could hang.
We then hung them on the posts of the kids beds.
15 minutes and the kids have a personalized sleeping space while they are away from home, having a blast at camp!
You could even spray on a coat of clear sealer if you wanted, it would just take a little more time to dry.
This was such a simple craft and the kids had fun making them.  I need to do more of these quick crafts with them.  Can't wait to check out the rest of the camp craft lightening series to get more fun ideas!
Happy Crafting!
Liz
Love quick kids crafts?  Check these out.
20 Bug Crafts to Make with Kids
Paint Chip Halloween Characters