Whether it's for back to school or teacher appreciation, you can't go wrong with this teacher you rule hand lettered print and print hanger teacher gift idea.
I can't believe that my kids will be headed back to school in just a few weeks.  I don't know about you, but this mom is ready for the kids to be back to school.  We function a lot better when we have a schedule.  Our summer has been pretty slow and uneventful.  Except for all the tattle telling sessions.  Ugh.  I'm not the only one excited to go back to school.  I know at least one of my kids is excited about school starting up again.  She is super excited to be starting first grade and she is going to have the same teacher her brother had, which she is even more excited about.
We love giving little gifts to our teachers to say thank you or we are excited about the new school year.  This year is no exception.  I got the kids together and we made this really really cute and easy printable hanger from rulers.  Now don't be discouraged by the number of photos in this post, this craft was done in 15 minutes and was made completely by my 8 year old.  (With parental supervision of course.)
For this project you will need:
2 wooden rulers
4 (1/2 inch) magnets
E6000 adhesive
twin or string
Hand Lettered You Rule print – download at end of post
Placing 2 magnets together (so you know which sides will stick together), place a dot of adhesive on one side.
Turn it over and place it onto the flat side of the ruler.  Make sure and come in a couple inches from the end of the ruler so that once it's done it will hold the printable.  Do the same thing will the other set of magnets and place them at the other end of the ruler.  Again, a few inches in from the end.  This adhesive dries pretty quickly, so give it just a couple minutes to set up.
Next, add a dot of adhesive to the both tops of the magnet stacks.
Then, lining up the rulers as best you can, place the second ruler over the bottom ruler and press down to secure the magnets to the ruler.
Using the holes of the ruler, tie your twine or string to both ends of one of the rulers.
Now it's ready for hanging this cute hand lettered printable!  Once the adhesive is dry, pull the rulers apart and place your print on top of the magnets on the bottom ruler.  Then cover it with the top ruler, lining up the magnets.
These ruler hangers are going to be a great addition to any classroom!
I created this print in both a black and white version and a chalkboard version.  These are for personal use only.  You can download both using the link below:
If you love quick back to school crafts, you gotta check out the rest of the Craft Lightening Back to School projects featured over at Country Cottage Chic, 30 Minute Crafts, and Happy Go Lucky.  All of these projects take just 15 minutes or less to create.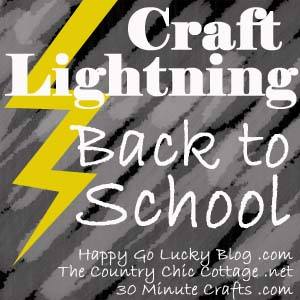 Do you know a teacher who rules?  They are sure to love this fun teacher gift idea.
Happy Gifting!
Liz
And this is one of my favorite super easy teacher gift ideas:
Title:
Teacher You Rule Teacher Gift Idea
Mentions:
free printables, gift idea, teacher gift, tutorial
Keywords:
Teacher Gift Idea
Last Updated:
May 10, 2020