Brunch party punch is one of the keys to keeping your party guests happy! Sunshine Berry Spritzer is an easy non-alcoholic brunch party punch recipe, so even the kids can enjoy it! This bubbly punch is packed with fresh fruit flavors.
You may not know it, but I am a huge fan of fun and easy party punch recipes. In fact, I think my mom is one of the best party punch makers I know. When we were challenged to create a beverage as part of the #15MinuteSuppers group, I was super excited!
For this quick and easy beverage idea, I'm sharing a drink recipe that is perfect for summer time, breakfast, brunches or just whenever.
Sunshine Berry Spritzer: Non Alcoholic Brunch Party Punch
With sunshine in the name, how could it not be perfect for summer?!
I don't know what my kids liked more. The drink or the fun fruit on the glass! What's great about this brunch party drink is that you can add as much or as little of something as you like to suit your taste preference. For such a simple party punch, this berry spritzer is loaded with flavor.
Sunshine Berry Spritzer - Non Alcoholic Brunch Party Punch
Ingredients
1/2 gallon orange juice
2 small cans pineapple juice
1 TBL lemon juice
1 sm pkg frozen sliced strawberries (with or without sugar)
2 cans club soda/seltzer water/lemon lime soda
ice
Instructions
In a big pitcher mix together orange juice, lemon juice and pineapple juice
Next add sliced strawberries - if it's too frozen, defrost it a little in the microwave
Mix juice and berries together
Add 2 cans of club soda (less sweet) or lemon lime soda (more sweet)
Pour over ice to serve
It's a fun refreshing drink! And since it's non alcoholic, it's perfect for any age. And if you want to make it more of an adult beverage, you could booze it up a little, too.
We love easy party punch recipes at our house, like this fresh and fruity party punch recipe.
Happy Mixing!
Liz
Need more quick 15 minute recipe ideas? Check out these other great #15MinuteSuppers!
Follow 15 Minute Suppers on Facebook | Twitter | Instagram | Pinterest
and look for the #15MinuteSuppers hashtag too!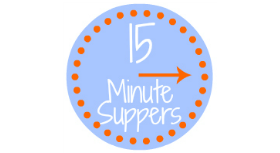 BLOGGERS: Would you like to join us at #15MinuteSuppers? We'd love to have you! Please check out the 15 Minute Suppers website or ask to join the Facebook group (for bloggers) to participate on Fridays…we'd love to have you join us.
Title:
Sunshine Berry Spritzer – Non Alcoholic Brunch Party Punch Recipe
Mentions:
easy party punch recipes, recipe
Last Updated:
May 18, 2022