Create the magic of Disney right in your own home by making a classic Disney treat.  These copycat Mickey Marshmallow Wands are so delicious.
When I grow up I want to work at the confectionary on Main Street in Disneyland.  Have you ever watched them make all those delicious treats through the windows?  It totally makes me want to eat everything they make.  And how can you resist Mickey shaped food?!?!
I love creating Disney inspired food in my own kitchen.  And my kids really like it too! 🙂  Some of our favorite Disney inspired foods are these Mickey Mouse soft pretzels, Mickey Mouse pop tarts, Mickey Mouse munch and this Mickey Mouse Freak Shake.  Not only am I a fan of Disney inspired food, but Mickey inspired food.  I'm a sucker for classic Disney.
In continuing with my love of Disney and Mickey inspired food, I had to make these Mickey Marshmallow wands.  Now I'm not a huge fan of marshmallows, but I've found that when they are covered with caramel and chocolate, you really can't go wrong.  Plus, these are a classic Disney treat that is found in every park.
See how I made these copycat Mickey Marshmallow Wands.
Yield: 10
Copycat Mickey Marshmallow Wands
A taste of Disney right at home
Prep Time 1 hour 30 minutes
Total Time 1 hour 30 minutes
Ingredients
1 bag marshmallows
20 yellow jelly beans
Caramel - or bag of caramels
1 package Chocolate bark
1 package Vanilla bark
red sugar sprinkles
long sucker sticks
parchment paper
Instructions
Lay a piece of parchment paper onto a tray.
Put 4 marshmallows onto one of the long sucker sticks and place on parchment.
Repeat until you have 10 marshmallow wands.
Cut caramel into big chunks and put into microwave safe bowl.
Follow package instructions for melting in microwave.
Once melted, dip marshmallow wand into caramel to coat marshmallows.
Try to shake/scrap off any excess and place on parchment.
Repeat with remaining marshmallow wands.
Once caramel has set up, melt your chocolate bark in the microwave according to package.
Coat caramel dipped marshmallows in chocolate and shake off any remaining.
Place onto parchment and put in fridge for about 30 minutes.
Melt vanilla bark in microwave.
Dip the marshmallow wands in vanilla bark but only for the first 3 marshmallows.
Shake off any excess and add 2 yellow jellybeans.
Then, before it has time to set up, cover the rest of the vanilla bark with sprinkles.
Here are some of the products I used.  These are affiliate links which means if you purchase through the link, I make a little something with no charge to you.
Now that you've seen how I make my favorite Disneyland treat at home check out how a few of my blog buddies make their favorites too!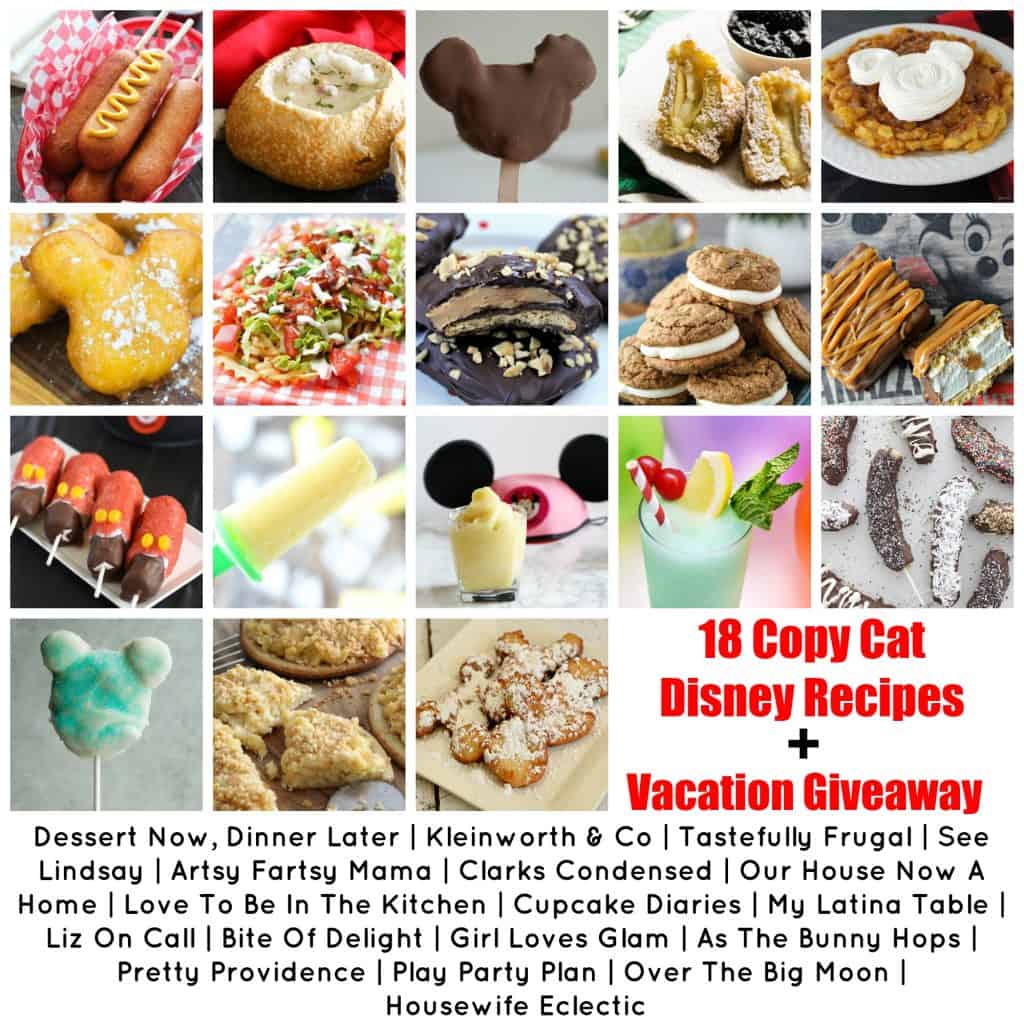 Hand Dipped Corndogs from Dessert Now, Dinner Later
Clam Chowder Bread Bowl from Kleinworth & Co.
Mickey Mouse Ice Cream Treats from Tastefully Frugal
Monte Cristo Sandwich from See Lindsay
Churro Funnel Cake from Artsy Fartsy Mama
Pumpkin Mickey Mouse Beignets from Clarks Condensed
BLT Waffle Fries from Old House To New Home
Chocolate Peanut Butter Sandwiches from Love To Be In The Kitchen
Carrot Cake Cookies from Cupcake Diaries
Caramel S'mores from My Latina Table
Mickey Marshmallow Wand from Liz On Call
Dole Whip Popsicles from Bite Of Delight
Dole Whips from Girl Loves Glam
Mint Julep Slush from As The Bunny Hops
Frozen Chocolate Covered Bananas from Pretty Providence
Mickey Mouse Cake Pops from Play Party Plan
Mac'n'Cheese Pizza from Over The Big Moon
Mickey Mouse Beignets from Housewife Eclectic
I can't wait to plan our next Disney trip!
Happy Cooking!
Liz