Are you a fish eater?  I really like eating fish and will try lots of varieties of fish.  But my hubby is a little more picky about the type of fish he wants to eat.  (Nothing too "fishy")  Tilapia is a fish that we both will eat, and shockingly, my kids will eat it too!  Of course I tell them it's chicken. 🙂  We have started trying to eat a little healthier this year and fish is a great way to do that.  I wanted to make something everyone would like and so I decided to make this tortilla crusted tilapia.  And it is easy and quick to make: only 15 minutes!
I used the tortilla chips with the hint of lime for my coating.  I love a little citrus taste with my fish and these gave this dish a little more flavor than just plain tortilla chips.  A little fresh squeeze of lemon or lime juice on this fish would be great too!
You can download this recipe using the download link below.
Need more quick suppers? Check out these other great #15MinuteSuppers!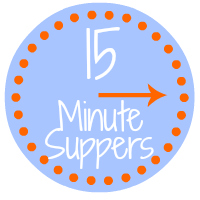 Thank you for subscribing to Lizzie Jane Baby.To read more, or download a recipe, please visit Lizzie Jane Baby Blog.