This week for our #15minutesuppers group, we are talking quick salads.  In the summer time it's too hot to cook dinner and salads are a great way to keep it cool in the kitchen.  This taco salad is probably one of my favorite meals to make.  Not only do I love it, my family loves it and it can be made in just 15 minutes!  Winning all around!
It does require a little bit of cooking, but just on the stove top and just for about 15 minutes.  This salad is a great meal for picky eaters.  You can personalize the toppings for each member of the family!  I'll be honest, my son loves the taco but hates the salad.  So we skip the lettuce for him.  But I know he will eat everything I put on his plate when it comes to taco salad. 🙂
Yield: 6
Taco Salad - #15MinuteSuppers
Quick taco salad the whole family will love!
Cook Time 15 minutes
Total Time 15 minutes
Ingredients
1 pound ground beef or turkey
1 pkg taco seasoning
frito chips
lettuce
shredded cheese
tomato
salsa
sour cream
olives
any other toppings you love
Instructions
Brown ground meat and drain off fat.
Add in seasoning packet and cook according to directions on package
While meat is cooking, prepare toppings for salad
Once meat is done cooking, assemble salad
Enjoy!
We usually have some salsa and sour cream in our fridge, but my kids like ranch dressing on their taco salad.  So really, you can't go wrong!
I love salads in the summer time, just wish I could get my kids to want to eat more salads. :/
Happy Cooking!
Liz
Here's another favorite salad:
Need more quick 15 minute recipe ideas? Check out these other great #15MinuteSuppers!
Follow 15 Minute Suppers on Facebook | Twitter | Instagram | Pinterest
and look for the #15MinuteSuppers hashtag too!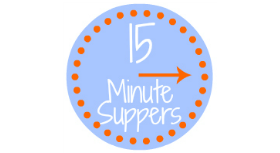 BLOGGERS: Would you like to join us at #15MinuteSuppers? We'd love to have you! Please check out the 15 Minute Suppers website or ask to join the Facebook group (for bloggers) to participate on Fridays…we'd love to have you join us.
Title:
Taco Salad – #15MinuteSuppers
Last Updated:
May 10, 2020