You may remember a few weeks ago I shared a delicious recipe for Honey Lemon Dill Salmon that you can make in 15 minutes.  Well today I wanted to share another #15MinuteSuppers recipe that uses the super convenient and easy to use Gourmet Garden herbs and spices.  Using the italian herbs and the garlic paste, I made chicken, asparagus, herb pasta.
I was shocked that I was able to get my kids to eat asparagus!  Of course when it is covered with chicken, herbs and parmesan, who wouldn't want to eat it!
Now this recipe may seem really difficult, but it really is not hard.  In order for this to take 15 minutes, there are a few tricks.  I used chicken that was already cooked.  Now I like to bottle my own chicken and keep it in my pantry just for occasions such as this.  It makes meal prep super easy and it tastes pretty good too.  You can always use a rotisserie chicken or save your grilled chicken leftovers to use it in this dish.  The first thing to do is get that pot of water boiling on the stove to cook your pasta.  As it is boiling and cooking away, you throw the rest of this chicken asparagus herb pasta together.  You can see more pasta dishes (that inspired this dish) using the Gourmet Garden products HERE (at the bottom of the post).
Chicken, Asparagus & Herb Pasta #15MinuteSuppers
Pasta dish that can be made in 15 minutes
Cook Time 15 minutes
Total Time 15 minutes
Ingredients
1 TBL olive oil
2 TBL butter
1 tsp. Gourmet Garden chunky garlic
3 TBL Gourmet Garden Italian herbs
2 cups cooked chicken - chopped
1 bunch asparagus
1 tsp. sugar
1/4 - 1/2 tsp. each salt & pepper (to taste)
2 cups uncooked pasta
shredded parmesan cheese to top
Instructions
Set a big pot of water on the stove to boil.
Wash and trim asparagus into about 1" pieces. Make sure to throw away the tough ends (about the bottom 2 inches).
In a large skillet pan with at least 2" sides, add butter and oil and set on medium high heat to let butter melt.
Add pasta to boiling water and cook per package directions.
Add garlic and italian herbs to melted butter and oil and mix until all combined.
Throw asparagus into pot of water with pasta for about 2 minutes. Remove asparagus with a slotted spoon and put it into the pan with the herb and butter.
Add chopped chicken to asparagus and herbs.
Add sugar, salt and pepper and mix it all together.
Once pasta is cooked, remove pasta from boiling water with a slotted spoon and add it to the skillet. KEEP SOME OF THE PASTA WATER.
Add about 1 cup of the pasta water to your skillet.
Mix everything together and top with parmesan cheese to serve.
And if you're not an asparagus fan, ditch it and just make the recipe without it!  It's still tasty and still takes just 15 minutes to make!
Need more quick 15 minute recipe ideas? Check out these other great #15MinuteSuppers!
Follow 15 Minute Suppers on Facebook | Twitter | Instagram | Pinterest
and look for the #15MinuteSuppers hashtag too!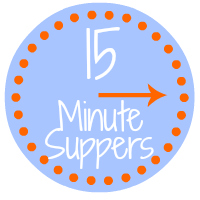 BLOGGERS: Would you like to join us at #15MinuteSuppers? We'd love to have you! Please check out the 15 Minute Suppers website or ask to join the Facebook group (for bloggers) to participate on Fridays…we'd love to have you join us.
Happy Cooking!
Liz
Title:
Chicken, Asparagus & Herb Pasta #15MinuteSuppers
Mentions:
chicken, recipe
Keywords:
chicken asparagus herb pasta
Last Updated:
May 10, 2020