I was provided product from Gourmet Garden to create a recipe. This is a sponsored post for Gourmet Garden through 15 Minute Suppers. All opinions and recipe are my own.
Dinner always seems to be a struggle at our house. 5:00 rolls around and I'm still trying to figure out what to make. So I love this recipe for Lemon Honey Dill Salmon that I can make in 15 minutes! #15MinuteSuppers. This is a great meal to make for those busy weeknights when you have to go to the kids baseball games and choir concerts. Dinner can be cooked, served and eaten in no time!
I was so excited to receive this great package from Gourmet Garden a couple weeks ago. I have never been one to use a lot of fresh herbs in my cooking because they always go bad before I really use them. So I was excited to try these herb pastes out and I have been loving the ease they provide in my cooking. Plus they will last for quite a while in the fridge.
Check out all those delicious herbs they have! The recipe possibilities are endless!
As I was looking through the variety of herbs in the package, I decided I wanted to try them in a fish recipe. I didn't know if my family would like the salmon, but they all ate it! My son cleaned his plate pretty quickly. And my husband even said he would eat that again! (Which is a big deal coming from someone that doesn't care for fish.)
Lemon Honey Dill Salmon #15MinuteSuppers
Recipe Type: Dinner
Author:
Prep time:
Cook time:
Total time:
Serves: 4-6
Easy salmon dinner made in 15 minutes
Ingredients
1/2 cup mayo
1 tsp. Gourmet Garden Dill paste
1/2 tsp. Gourmet Garden Garlic paste
1 tsp. Gourmet Garden Lemon Grass paste
1/4 tsp. salt – or more if you like more
1/4 tsp. pepper – or more if you like more
2 tsp. honey
1 1/2 pounds salmon – 4 equal filets of about 6-8 ounces
Instructions
Preheat oven to 400 degrees
Rinse and pat dry your salmon filets and lay them skin side down on a baking sheet that has been covered in foil.
In a small bowl whisk together all other ingredients.
Spread mixture liberally on each salmon filet
Bake for 10 minutes
After 10 minutes, do not remove from oven.
Turn broiler on high and broil fish for 2 – 3 minutes
Serve with a squeeze of fresh lemon.
Since there was not chopping or peeling of ingredients, this came together so quickly. While the fish is in the oven, throw together your salad and any sides to go with the salmon. I kind of shocked myself that dinner was cooked, eaten and cleaned up in less than an hour!
Look how flakey that salmon looks!!
And here is the best part!
Gourmet Garden wants to give one of you your own package just like the one they sent me! You will be able to create this meal along with the other #15MinuteSuppers you can find at the end of this post!
How awesome is that!
Just use the Rafflecopter below to enter the giveaway.
We are so excited to be partnering with Gourmet Garden this week. Gourmet Garden offers convenient herbs and spices in tubes that make creating #15MinuteSuppers a breeze. No washing or chopping required…just squeeze in some herbs to quickly flavor your suppers! Need more quick 15 minute recipe ideas? Check out these other great #15MinuteSuppers from some of my friends!
Follow 15 Minute Suppers on Facebook | Twitter | Instagram | Pinterest and look for the #15MinuteSuppers hashtag too!
Head over to our #15MinuteSuppers Pinterest Board to see all the past recipes and more delicious goodness!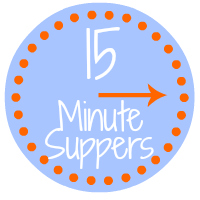 BLOGGERS: Would you like to join us at #15MinuteSuppers?
We'd love to have you! Please check out the
15 Minute Suppers
website or ask to join the
Facebook group
(for bloggers) to participate on Fridays…we'd love to have you join us.
Disclosure: This is sponsored recipe for Gourmet Garden through 15 Minute Suppers. Recipe & opinions are my own.
Happy Cooking!
Liz
Title:
Lemon Honey Dill Salmon #15MinuteSuppers
Keywords:
lemon honey dill salmon
Last Updated:
May 10, 2020