Growing up one of my favorite meals that my mom (or dad) would make was Chicken a la King.  I always thought it was such a silly name, and I still don't know where it comes from, but man did I love it.  I mean who wouldn't!  Biscuits, gravy, chicken and it even has veggies so it's healthy right? 🙂 I wouldn't have a love of peas if it wasn't for Chicken a la King.
Because I have such fond memories of this meal from my childhood, I now wonder why it took me so long to make it for my family.  I have made it a couple times since I've been married (hubby is a fan), but usually I'm too lazy or I've waited to the last minute and I think that I don't have the time to make it.  Well with a few helpful items, this meal can be made and on the table in 15 minutes!



Yield: 6
Chicken a la King #15MinuteSuppers
Chicken, peas, carrots and gravy over biscuits

Cook Time 15 minutes

Total Time 15 minutes
Ingredients
1 package store bought biscuits
1 - 1 1/2 cups cooked (rotisserie) chicken, cubed
1 (15 oz) can of peas and carrots, drained
1 (14 oz) can of chicken broth
1/2 cup milk
2 TBL butter
2 TBL flour
1 tsp sugar
1 tsp chicken bullion granulated
pepper to taste
Instructions
Prepare and bake biscuits according to package directions
AS BISCUITS ARE BAKING DO THE FOLLOWING:
Melt butter in a sauce pan on medium high heat
Add flour to melted butter and whisk together so there are no lumps
Let butter and flour cook together for about 2 minutes, making sure to not let the mixture burn
Slowly whisk in chicken broth and milk
Add chicken bullion, sugar and as much pepper as you like (or not)
As it starts to boil, the gravy should start to thicken, continue stirring so that it doesn't burn on the bottom (if it is too thick, you can add more milk, in small amounts, until you get the thickness you like)
Once it starts to thicken, add in the chicken and the peas and carrots and stir all together
Split open your biscuits and cover with the chicken gravy to serve
Need more quick 15 minute recipe ideas? Check out these other great #15MinuteSuppers!
Follow 15 Minute Suppers on Facebook | Twitter | Instagram | Pinterest
and look for the #15MinuteSuppers hashtag too!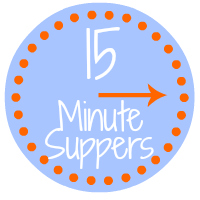 BLOGGERS: Would you like to join us at #15MinuteSuppers? We'd love to have you! Please check out the 15 Minute Suppers website or ask to join the Facebook group (for bloggers) to participate on Fridays…we'd love to have you join us.
Happy Cooking!
Liz
Here are even more 15 Minute Supper ideas.  You know, just in case 😉
Chicken Asparagus Herb Pasta
Southwestern Panini
Lemon Honey Dill Salmon
Title:
Chicken a la King #15MinuteSuppers
Mentions:
chicken, recipe
Keywords:
Chicken a la King
Last Updated:
May 10, 2020