Happy Friday!  Today I have a super delicious, super easy and super quick dinner for you guys.  I'm all about quick and easy and usually for me, that means using a lot of premade ingredients.  Well this dish comes together so quickly because it gets a lot of help from already prepared items.  But, with a few little additions, a jar of alfredo sauce can be turned into Sun Dried Tomato Chicken Alfredo and can be done as a 15 minute Supper!
You may remember me talking about the Blended blogger conference I attended a few weeks ago.  Well inside my swag bag was a bag of these sun dried tomato halves from Bella Sun Luci.  I love sun dried tomatoes and have never seen them dried in a bag like this.  They were pretty great.
About a week later I was contacted by
Mooney Farms
, the makers of Bella Sun Luci products and asked if I would like to try some of their other products.  I was excited to receive these wonderful jars of sun dried tomatoes in different styles and flavors.  They also sent me some recipe cards with things to make using their products.  So I decided to make a dish using their Julienne Cut tomatoes with Italian Herbs that was delicious and quick.
The ingredients needed to make this dish are:
1-2 boneless skinless chicken breasts, diced
1 jar of store bought alfredo sauce
1/2 cup Bella Sun Luci julienne cut sun dried tomatoes
1 pound box of bow tie pasta
1/2 tsp pepper
1-2 TBL olive oil
salt and pepper to taste
Here is how you make this 15 minute supper.
Fill a large pot with water and put on stove on high heat and wait to boil.  In a skillet pan with sides heat olive oil on medium high heat for a minute.  Add diced chicken to skillet with olive oil and start to cook chicken (I added a little salt and pepper to my chicken as it cooked).  When your water starts boiling add pasta and cook per box instructions.  Once your chicken is cooked, add your alfredo sauce and 1/2 tsp pepper (my hubby likes a lot of pepper, feel free to omit the pepper if desired).  Stir all together with the chicken, then add your 1/2 cup julienne cut sun dried tomatoes (having them already cut is a huge time saver) and mix everything together and turn the heat to low to simmer.  When pasta is done, drain it and then toss it with your sun dried tomato chicken alfredo sauce.
See how simple that is!  Not only does it look delicious, it tastes delicious too.  Although dicing the chicken can be a little tedious, using a couple short cuts and time saving tips, made this 15 minute supper taste like momma had been working on it for a long time!
Occasionally you will see me post a recipe with the (hashtag) #15minutesuppers.  That means that not only will you get to see a fabulous recipe here, but I will also be including links to other blogs that are part of the 15 minute suppers group and you can check out their delicious recipes too!  All the recipes shared are super easy to make and take 15 minutes or less to get on the table.  Now that is my kind of group!
And don't forget to check out these other 15 minute suppers that are being shared this week.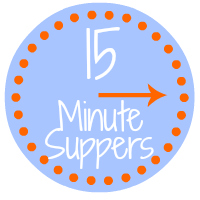 Chicken & Waffle Sandwiches from Around My Family Table
Easy Skillet Lasagna from How To This And That
Sun Dried Tomato & Chicken Alfredo from Lizzie Jane Baby
Best-ever Baked Chicken Nuggets from Better in Bulk
Paleo Coconut Fish Soup Recipe from Confessions of an Overworked Mom
15 Minute Chicken Fajita Recipe from Sunshine and Sippy Cups
Ham and Cheese Pasta with Vegetables from Suburbia Unwrapped
BLT Tortellini Salad from Just 2 Sisters
 If you are a blogger and you'd like more info, please check out the
15 Minute Suppers
website or ask to join the
Facebook group
to participate on Fridays…we'd love to have you join us.
Happy Quick Cooking!
See my linky party people page to see where I link up too!
Disclosure: I was provided free product for a review.  All opinions are my own.
Thank you for subscribing to Lizzie Jane Baby.
To read more, or download a recipe, please visit Lizzie Jane Baby Blog.
Title:
Sun Dried Tomato Chicken Alfredo – #15MinuteSupper
Mentions:
chicken, recipe
Keywords:
sun dried tomato chicken alfredo
Last Updated:
March 5, 2014