I love dessert!  I mean, who doesn't, right?!?!  I especially love a super fast dessert.  That is exactly what I've got to share with you today.  These cherry biscuits are a perfect dessert to finish off your Valentine meal, and they can be made in 15 minutes! #15MinuteSuppers
These cherry biscuits are just 2 ingredients.
1 can of cherry pie filing
1 package refrigerated buttermilk biscuits (10 count)
That is it!
Using a muffin tin, put cherry pie filing into 10 of the cups.  Make sure to cover the bottom and you have 5 or 6 cherries in there.  You want them to just be one layer, don't fill them too much.  Then open up your can of biscuits and place 1 biscuit in each of the filled cups.  Bake at 400 degrees for 10-12 minutes, until the biscuits are golden brown.
These are best served right out of the oven and topped with whipped cream.  I used a big spoon to serve them and made sure to get all the warm cherry filing out of the muffin tin and on top of those biscuits!  Yummy!
We are having so much fun today on #15MinuteSuppers! We are all sharing quick and easy Valentine's Day Dessert ideas that are ready in 15 minutes or less! I know, super awesome right?!?!? So check out what everyone else made this week…
Valentine's Day Strawberry Rice Krispie Treats from Better in Bulk
Cherry Biscuits from Lizzie Jane Baby
Easy Heart-Shaped Desserts for Valentines Day from Around My Family Table
Strawberry Rhubarb Sauce from Confessions of an Overworked Mom
No Bake Cherry Cheesecake from Just 2 Sisters
Molten Chocolate Cakes from Songs Kate Sang
Chocolate Almond Butter Croissants from Jen's Journey
Quick and Easy Valentine's Dessert Skewers from Celebrating Family
Quick Valentine Cookies from East Valley Mom Guide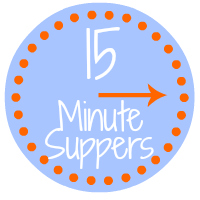 Bloggers…would you like to join us at #15MinuteSuppers? We'd love to have you! Please check out the 15 Minute Suppers website or ask to join the Facebook group (for bloggers only) to participate on Fridays…we'd love to have you join us.
Happy Baking!
Thank you for subscribing to Lizzie Jane Baby.
To read more, or download a recipe, please visit Lizzie Jane Baby Blog.