This week the 15 minute supper bloggers were challenged with Mac &  Cheese recipes.  I have never made homemade macaroni and cheese before.  And there is no way I could do it in 15 minutes!  But I was up for the challenge and I actually pulled it off!  Granted I was a crazy mad cooking lady for 15 minutes but I was able to make this Bacon Cheeseburger Macaroni and Cheese.Oh and you might what to make sure and read all the way to the end of the post! 🙂  We've got a little something extra for you #15MinuteSuppers fans.
This mac and cheese turned out super yummy.  It is a crowd pleaser for sure.  My hubby and kids both liked it!
Yes I did have 3 pans going at the same time, but I still was able to get it all done in 15 minutes.  Even after I burned my first butter and flour (start of the cheese sauce) and had to start over!  Does pasta really count as a pan since basically you just have to let it sit there and cook?  And you don't have to be constantly stirring the hamburger for it to cook either.  So I was able to do it all in 15 minutes.
When your hubby (or wife) sees all the dishes after dinner, he might think you've been slaving away all afternoon to bring him this supper and offer to do the clean up! 😉  A girl can dream right?!?!
If you'd like to give yourself a challenge and make this in 15 minutes,
click on the link below to download the recipe.
Today, the #15MinuteSuppers bloggers have teamed up to bring you macaroni and cheese supper ideas in only 15 minutes. So, while the kids are having their plain mac & cheese you can dress yours up and create something more supper worthy! Have you been enjoying all these delicious and quick meals every Friday Our goal is to help you get a meal on your table in less time than you could get take out or order a pizza.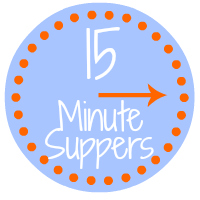 You have to check out these delicious 15 Minute Suppers:
White Cheddar Mac and Cheese with Grilled Chicken and Apples from Better in Bulk
Bacon Cheeseburger Mac &  Cheese from Lizzie Jane Baby
Veggie Macaroni and Cheese from Just 2 Sisters
Mac n Cheese with Pepper and Bacon from Sunshine and Sippy Cups
Easy Stovetop Mac and Cheese with Bacon from Songs Kate Sang
Buffalo Chicken Macaroni and Cheese from Around My Family Table
If you are a blogger and you'd like more info, please check out the
15 Minute Suppers
website or ask to join the
Facebook group
to participate on Fridays…we'd love to have you join us. A few of the #15MinuteSuppers bloggers have joined together to help spread the word about this new project we are working on.
Enter to win a $80 Amazon Gift Card just in time for holiday shopping!
Happy Cooking!
See my linky party people page to see where I link up.
Thank you for subscribing to Lizzie Jane Baby.
To read more, or download a recipe, please visit Lizzie Jane Baby Blog.
Title:
Bacon Cheeseburger Mac & Cheese – #15MinuteSuppers
Keywords:
Bacon Cheeseburger Mac & Cheese
Last Updated:
March 5, 2014